The Turks, as well as the Greeks, felt very strongly the need for finding water in order to quench the citizens'' thirst and the people''s of the suburbs, but also to cover their religious demands. A lot of philanthropic fountains (sebil) were built during this period in squares, while other simpler ones were erected in various streets in the centre of the town and in different neighbourhoods. Quite a few of them are still being seen today, preserved in good condition, and decorating several parts of the city.
Philanthropic fountain of Kornarou square: It was built in 1776 by Hadji Ibrahim aga. In order to keep it working, he dedicated almost all his property. It is unique in its kind that is still preserved today. It is of a circular type building with a "tholos" and around the walls there are semi-circular windows with rails, in front of each one of them there exist a tap with a stone basin for the water to be collected. Today it is used as a coffeehouse.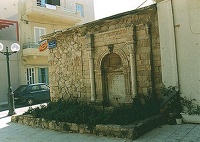 Idomenea''s fountain: It was built in the end of the 17th century. Today it is found behind the Historical Museum of the city. It is decorated with two columns with floral capitals, while in between them and inside an arched construction there is a marble plaque with relief decoration. The water was running from a specially made hole at the bottom of the plaque, into a marble basin.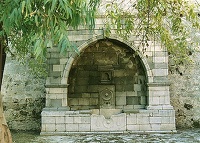 The Chaniali fountain: Today it is situated next to the external Gate of St. George, underneath the statue of Eleutherios Venizelos. Within an arched construction, which its top is decorated with floral elements, there is a plaque and the spout is within a relief decorated frame. The water was collected in a marble basin of a similar decoration.
 

Genitsar aga''s fountain: Today it is situated in the Ikarou Avenue, next to the Epigraphic Collection of Heraklion Museum. Within an arched construction which, is surrounded by two big square columns, decorated with rosettes, there is a relief spout of fine workmanship.