Taxiarchou Markopoulou str.
It is an orthodox church, maybe from the second Byzantine period. During the Turkish period it was granted to the monks of Sinai in exchange for the Monastery of St. Aikaterini that it was turned into a mosque. Today the church has a collection of icons, including very important pieces of work of the "Cretan School", as is the "the Crusifixion" of Georgios Kastrofylakas (1752), "St. Titos and scenes of the life of the ten martyrs" of Ioannis Kornaros (1773) and others. Nowadays the church is being reconstructed by the 13th Archaeological Service.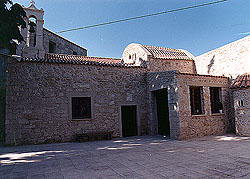 Ayios Mathaios.
Ayios Mathaios Church.

A detail of the reconstructed part.