A Venetian seaside fortress situated at the entrance of the old harbour. It was built by the Venetians, before the construction of the new Venetian fortification, in order to protect the pier and the port. It took its last shape in the years between 1523 - 1540 replacing another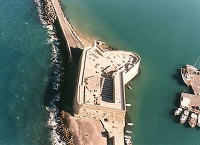 construction destroyed by an earthquake. It has been continuously repaired due to the violent waves of the sea that always used to cause damages to its stonework and foundation.
It was built with big blocks of stone and it consisted of two floors. On the ground floor there exist 26 rooms that were used to house captains or to store food and ammunition. On the upper floor there are battlements for placing canons. The upper parts of the castle and the existing base of the minaret are Turkish changes. On the outside of the main sides of the castle, there are relief plaques that stand out with the lion of St. Mark, the symbol of Venice. During the Turkish period in the dark and humid rooms of the castle, the Turks used to torture and imprison the Cretan revolutionaries. Today, the castle is open to visitors and during the summer period it is used for various cultural activities (art exhibitions, music, theatre).